List of Tiger Reserves in India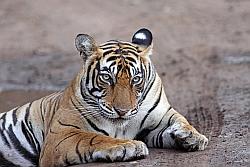 There are 39 Tiger reserves in India which are governed by Project Tiger(1973). The largest Tiger Reserve in India, is the Nagarjunsagar-Srisailam Tiger Reserve of Andhra Pradesh. These 40,969 km2 (15,818 sq mi) of reserves are operated "to ensure maintenance of a viable population of the conservation dependent Bengal tigers in India for scientific, economic, aesthetic, cultural and ecological values and to preserve for all time areas of biological importance as a national heritage for the benefit, education and enjoyment of the people". The landmark report, Status of the Tigers, Co-predators, and Prey in India, published by the National Tiger Conservation Authority, estimates only 1411 adult tigers in existence in the various Tiger Sanctuaries in India (plus uncensused tigers in the Sundarbans).
Click here to visit our list of various TIGER SAFARIS IN INDIA.
State
Tiger Reserves
Year of Estd.
Total Area (km2)
Assam
Arunachal Pradesh

Namdapha
Pakhui
Nagarjunsagar-Srisailam

1982-83
1999-2000
1982-83

Bihar
Chhattishgarh
Jharkhand
Karnataka

Bandipur
Nagarhole (extension)
Bhadra
Dandeli-Anashi

1973-74
1999-2000
1998-99
2007

Kerala
Madhya Pradesh

Bandhavgarh
Bori-Satpura
Kanha
Panna
Pench
Ratapani

1993-94
1999-2000
1973-74
1994-95
1992-93
2008-09

1162
1486
1945
542
758
674

Maharashtra

Melghat
Pench
Tadoba Andhari
Sahayadri

1973-74
1992-93
1993-94
2008-09

Mizoram
Orissa
Rajasthan

Ranthambhore
Darrah
Sariska

Tamil Nadu
Uttar Pradesh

Dudhwa
Katerniaghat (extension)
Pilibhit

1987-88
1999-2000
2008-09

Uttarakhand
West bengal
Karnataka

Biligiriranga Hills
Kudremukha
Tiger Reserves of India Map
Map of Tiger Reserves in India