India Quick Facts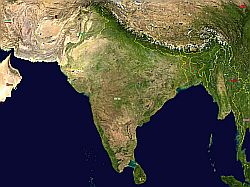 "India is the cradle of the human race, the birthplace of human speech, the mother of history, the grandmother of legend and the great grandmother of tradition. Our most valuable and most astrictive materials in the history of man are treasured up in India only!"
- By Mark Twain
The above quote about India truly describes what India is all about. India, the country where you find a unique blend of cultures, castes and races with generous doses of tradition thrown in. What you get, is a pleasantly appalling, fascinating, mystifying land that almost everyone falls in love with. Just for your assistance, given below are certain quick facts of India that will help you analyse India at a glance.
Full Name : Republic of India
Capital City : New Delhi
Total Area : 3.3 million square kilometres (approximately), 1.2 Million Square Miles.
Population : 1,200,000,000 (2011 Census)
Coastline : 7,516 kilometers (inclusive of Andaman, Nicobar and Lakshadweep islands)
North to South : 3214 kilometers.
East to West : 2,933 kilometers.
Latitude : 8°4' and 37°6' North
Longitude : 68°7 ' and 97°25' East
Climate : The Climate varies from tropical monsoon climate in the South to temperate in the North. India experiences three major seasons - winters, summers and Monsoon. Summers (April - October) Winters (November - March) Monsoons (July - September)
Terrain : Himalayas in north, Deccan Plateau (upland plains) in the south, flat to rolling plains along the Ganges river, deserts in west.
Form of Government: Democracy (Federal form of Government)
President : Mrs. Prathibha Patel
Prime Minister : Mr. Manmohan Singh.
States and Union Territories : India has 28 states and 7 Union Territories.
Languages : Hindi is the official language. English is widely spoken and written. 17 major languages recognized by the Constitution and 844 Dialects.
Religions : Hindu - 80%, Muslim - 14%, Christian - 2.4%, Sikh - 2%, Buddhist - 0.7% Jain - 0.5%, Zoroastrian and others - 0.4%
Currency : Indian Rupee
Time Zone : The Indian time zone, Indian Standard Time (IST) is 5.5 hours (5 hours and 30 minutes) ahead of the Greenwich Mean Time (GMT).
Business Hours : 10 A.M. - 5 P.M. (Monday to Friday)
Electricity : 230-240V 50HzHz
Country Dialing Code : 91
National anthem : Jan Gana Mana, written by Rabindranath Tagore.
National flag : Horizontal tricolor in equal proportion of deep saffron on the top, white in the middle and dark green at the bottom. In the center of the white band is a wheel in navy blue colour.
National animal : Tiger
National bird : Peacock
National flower : Lotus
National tree : Banyan
National fruit : Mango
Passports and Visas : Valid passport and visa is required to enter in India. Visas cannot be issued on arrival. It is also essential that the passport should be valid for at least six months from date of entry.