National Food of Kenya- Ugali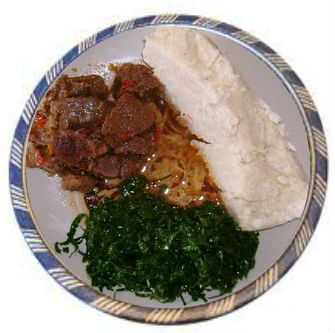 Ugali can be cooked with different ways as in it can be made with green vegatables or meat or chicken. Its main ingredient is corn, which is a staple food of Kenya. Most of the ugali recipes use corn meal as the main ingredient and rest as per the choice of the people whether to make it vegetarian dish or non vegetarian dish.
Ugali Recipes
Ingredients:
Water - 4cups
Salt – 2 teaspoons
White cornmeal – Finely grounded( 2 Cups)
Directions
Bring the water and salt to a rapid boil.
Stir in the cornmeal slowly letting it to fall through the fingers of your hand.
Reduce heat to medium low and continue stirring it regularly, smashing any lumps with a spoon. Remove from heat and allow it to cool.
Place the ugali into a serving plate.
Health Benefits:
White cornmeal is the most commonly used grain for ugali that is rich in protein and amino acids that are building blocks. It does not contain glutten, so it makes a safe cooking ingredient for those suffering from celiac disease.
Kenya Safari Cuisine Gallery
Page 1 | 2 | 3
Kenya Tour Route options
Safari Tours in Kenya
The Earth Safari Camps
Best Beaches in Kenya
Best Excursions in Kenya
General Info
Capital: Nairobi, the largest city (1°16′S 36°48′E).
Official languages: Swahili and English.
Currency: Kenyan shilling (KES).
Population: Approximately 41 Million.
Ethnic groups: Kikuyu, Luhya, Luo, Kalenjin, Kamba, Kisii, Meru other African and non-African.
Tribes: 42.
Continent: Africa.
Area: 580,000 Km2.
Highest Peak in Kenya: Mount Kenya, Kenya is named after the mountain.
Main Airport: Jomo Kenyatta Airport.
Location on map: Central East of Africa, close to the Equator.
Climate: Favorable Climate all year round.
Weather in Kenya
It's generally sunny, dry and not too hot for most of the year in Kenya despite being situated on the equator. The main rainy seasons are from March to May and November to December but the amount of rainfall varies year to year. Central Kenya is situated on a plateau and Mount Kenya is high enough to have permanent snow and it will often freeze at night. Western Kenya is generally hot and humid and Northern Kenya is generally hot and dry.